J
ako, że na wykopie pojawiać się zaczął projekt Hashup (twórcy go aktywnie promują) postanowiłem przyjrzeć się whitepaperowi projektu, który raczej zrobił na mnie negatywne wrażenie. Natomiast by możliwie najmniej podkopać projekt (i tak mnie już twórcy nienawidzą) całość opiszę na Zapread, bo zaraz będzie narzekanie, że polak polakowi polakiem i w ogóle chrzanić wszystko zamiast na jakiś kryptostronach - a może się mylę i ludzie będą śmiać się z głupiego Ferviego - kto wie. Moim zdaniem "Wolny rynek" (o czym będzie za chwilę) zweryfikuje ten projekt i "będziemy go miło wspominać, choć nie wszyscy".
Czym jest Hashup?
Hashup jest w sumie wszystkim co jest związane z grami komputerowymi. Jest producentem gier, jest platformą do sprzedawania, kupowania i wynajmowania gier, jest narzędziem do monetyzacji projektów Open Source, jest dostawcą serwerowni, jest giełdą, jest platformą społecznościową dla graczy i wiele wiele innych funkcji.
Dlaczego potrzebujemy Hashup?
Odpowiedź jest prosta. W świecie zdominowanym przez Steam, Epic i innych dostawców ludzie są uciemiężeni i tylko Hashup jest to w stanie zmienić. To Steam zabronił nam odsprzedaży gier, pożyczania gier, gry są dzięki Steamowi potwornie drogie i w ogóle. A wcześniejsze projekty zdecentralizowane (o których Hashup nie wspomina) i tak upadły, bo nie miały gier, ale to nic.
I brzmi to bardzo fajnie, ale czy realnie? Spróbuję rozbroić bombę.
Czy Steam jest złem całego świata?
Moim zdaniem tworząc projekt trzeba się zastanowić do kogo jest skierowany, a tego (z Whitepaper) twórcy Hashup nie zrobili. Możliwe, że są za młodzi (ale raczej nie), albo po prostu sami się utwierdzili w przekonaniu, że Valve stworzyło potwora. I ten potwór niszczy dostawców gier i niszczy graczy.
Tylko czy to prawda? Być może. Ja jednak mam na to zupełnie inne spojrzenie, w którym to twórcy gier i dostawcy REALNIE cementowali rynek gier, a to co Valve robi jest kompromisem. Whitepaper Hashup twierdzi, że mając płytę można było się dzielić czy odsprzedawać grę innym użytkownikom. I w wielu przypadkach tak faktycznie było, jednak pod koniec "istnienia" gier na CD były zabezpieczenia ograniczające reinstalację gier do paru kopii. Oznacza to, że realnie daną grę (czy program) można było zainstalować 3 razy, a potem gra była bezużyteczna. Gry też wymagały połączenia z internetem by się włączały (lub po prostu raz na parę dni podłączenia się). Dla przykładu w grze Spore[1] było specjalne narzędzie dostarczane przez twórców, które pozwalało usunąć grę na naszym komputerze, by ją przenieść na inny komputer, ale mimo to można było swoją kopię zablokować (np. dodając RAMu czy zmieniając podzespoły).
Dlatego uważam, że twórcy Hashup nie odrobili lekcji i nie wiedzą, że problemem nie jest Valve, a twórcy gier. Jest jednak jeszcze inny przykład, który po pokazuje (w mojej opinii) czemu Hashup minął się z celem. GOG. GOG to platforma jak Steam czy Epic, jednak gry na niej sprzedawane są "opakowane" w dość liberalne zasady. Gier z GOGa nie można odsprzedawać, ale nie mają DRMów (zabezpieczeń). Można oczywiście stwierdzić, że GOG to tylko stare gry, ale to nieprawda, gdyż CDPR wrzuca swoje produkcje na GOG (bo to ich platforma), natomiast nie doświadczymy tam wielu nowych gier. Jest to (moim zdaniem) spowodowane tym, że GOG jest zbyt liberalny, by opłacało się większości producentom gier wydawać tam swoich gier, a trafiają tam dopiero, by dostać drugie życie. Bethesda na GOGu nie wrzuciła Fallouta 4, który jest z 2015 roku, za to jest Fallout New vegas z 2010 roku. Możemy też kupić Obliviona, ale nie Skyrima. Oczywiście są nowe tytuły (z 2021 roku) na GOGu, ale są to indyki, podczas gdy Hashup oficjalnie celuje w każdą grupę (więc Rockstar itd. również).
I ostatecznie dlatego zastanawiam się czy ktoś zrobił research albo zastanowił się nad sensownością. Jasne - konkurencja Hashup jako konkurencja GOG ma sens, ale GOG raczej nie potrzebuje konkurencji, a ci co postują na Steam lub swoich platformach nie są zainteresowani taką formą dystrybucji.
"Wolny rynek" i kuce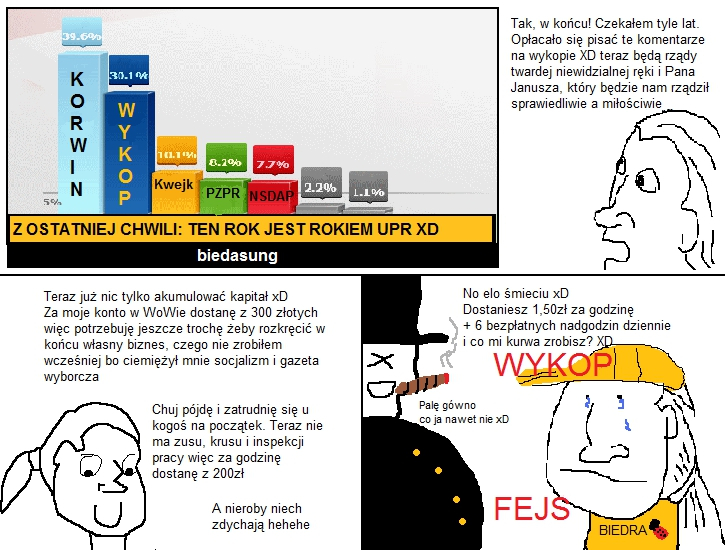 Na wykopie neuropa z konserwami biją się od praktycznie zawsze o dominację na portalu ze śmiesznymi obrazkami. Zapewne wygrana musi być bardzo dużo warta :P Myślę, że w głowach wielu osób zawsze rodziły się jakieś koncepcje która strona jest dla nich warta do śledzenia. Czy Korwin wygra? A może Tusk? I takowe i ja miałem jakiś czas temu - walka o wolny rynek.
Tylko tak realnie idealizowany do granic możliwości wolny rynek nie jest w stanie zaistnieć. W dużym stopniu oczywiście tak, ale w dużym stopniu to nawet komunizm może istnieć - patrz Chiny. Natomiast szlag mnie trafia jak ktoś próbuje wszystko zasłaniać wolnym rynkiem. Niestety spora część whitepaper to tego rodzaju ględzenie dla ględzenia.
Weźmy na przykład kupowanie gier. Kupując grę przykładowo na Steam - wydajesz pieniądze, Steam sobie potrąca część środków, reszta trafia do twórcy gry. W miarę logiczne to jest, wszak idąc codziennie do Biedronki tak właśnie to wygląda (mniej więcej). Jednak to nie jest wolnorynkowe. Różne części whitepapera podlegają wolnemu rynkowi, tylko nie do końca jest wyjaśnione w jaki sposób.
Z punktu 1.2.2 dowiemy się, że ceny ustalane w sklepach nie są wolnorynkowe, a jakość oprogramowania jest słaba, bo nie ma wolnego rynku. Ceny gier będą ustalane przez prawo popytu i podaży. Dodatkowo Steam rości sobie pieniądze za bycie pośrednikiem płatności i jak w ogóle on śmie śmieć. Ja nie jestem wolnorynkologiem, ale chyba ceny w Steam są konsekwencją wolnego rynku w każdym calu. Wydając słabą grę jej cena spada drastyczniej niż wydając dobrą, a twórcy chcą zarobić na całym procederze. Jak dla mnie to klasyczny wolny rynek, a produkcje tworzone przez twórców ogólnie są podyktowane wolnym rynkiem. Ubisoft, Activision czy EA rozwija głównie opłacalne marki, a stare przechodzą do lamusa. Nie dlatego, że Gaben tak powiedział, a dlatego, że to firmy, których celem jest maksymalizacja zysku.
Co do 30% prowizji (z tego co rozumiem Hashup chce 0.1%). Można stwierdzić, że jest olbrzymia. Tylko pytanie czy realnie patrząc jest. Jakie plusy przemawiają za Hashupem. Nie ma na razie użytkowników, nie ma na razie gier, platforma istnieje tylko na papierze vs Steam, który jest akceptowany na całym świecie, każdy wie jak robić zakupy, masz miliony użytkowników, masz dziesiątki tysięcy produkcji, Valve aktywnie inwestuje w rynek gier komputerowych, a dodatkowo muszą opłacać serwerownie, sami muszą opłacać prowizje, mają pracowników, rynek reklamy i tak dalej i tak dalej. Widocznie Valve jest na tyle efektywne, że producenci godzą się często na 30% opłat za dostęp do całego rynku globalnego. Wszak na wolnym rynku dostawców sklepów są inne produkty - Origin, Uplay, GOG, Epic, Ubuntu Store chyba istnieje dalej, Humble Bundle częściowo, itch.io, Google Play i wiele innych. Ba, powstaje nawet Bitcoinowy "Steam" - Elixir.
Natomiast w wielu miejscach "wolny rynek" rozwiązuje braki, tylko nie wiadomo jak. Otóż Hashup to projekt łączący blockchaina (klucze do gier) z torrentami (pliki). Jak niektórzy pamiętają to zdarza się, że na Torrentach pliki znikają z sieci, nie są seedowane. Odpowiedzią na ten problem jest "Wolny rynek". Tylko mnie nie kupuje, bo nie wierzę, że wolny rynek to rozwiązanie na całe zło.
Oczywiście wolny rynek jest szeroko stosowaną ideologią w whitepaprze. Mamy nawet informacje o tym, że Polski rząd przy odpowiednich okolicznościach będzie musiał akceptować walutę # (rozdział 1.3.10)
Na pewno przyda się im trochę pokory
Nie będę tutaj się mocno rozpisywał, ale twórcom brakuje pokory. Np. projektu nie ma ciągle, ale Hashup będzie bardziej akceptowany na świecie niż wszystkie inne kryptowaluty, czy twórcy Hashup wyprzedają konkurencję o 25 lat (1.2.4, 9). Mogę długo o tym pisać, ale chyba nie warto, bo to mało ciekawe.
Tytuły startowe
Mógłbym naprawdę długo o Hashup pisać, ale mamy w miarę piękny dzień - szkoda czasu. Postaram się to skrócić i dowiedzieć się czegoś o tytule startowym.
Porównam trochę Hashup do Elixir, wszak to mają realizować podobne funkcje (z dwie). Elixir to produkt Satoshi's Games, czyli firmy krypto, które tworzy "w miarę duże gry". Możemy zobaczyć Lightnite czy nową grę surwiwalową - Satvival. Oczywiście też sporo mniejszych gierek, czy gry mobilne. Ceny takich gier zaczynają się od niecałych 3 dolarów za gry mobilne / małe, do 15-20 za większe produkcje.
Pierwszym tytułem Hashup ma być clicker. I oczywiście zanim ktoś wyśmieję, wezmę tutaj w obronę twórców - są clickery, które dobrze prosperują na rynku krypto - np. Alien Worlds. Jednak to czego nie rozumiem w grze 100$ Millionaire to cena - oczywiście jest ona wolnorynkowa, ale założeniem twórców jest to, że gra zarobi 1 mln dolarów przy nakładzie 10 000 kopii. Oznacza to, że średnio kod gry wyniesie 100 dolarów, czyli jakieś 350zł. Oczywiście jako, że wolny rynek to jeden kupi ją za 1 dolara, a drugi za 300 dolarów, ale tego typu produkcje zwykle są darmowe - ale nie tutaj. O ile w jakimś stopniu Hashup ma sens, to w 90% nie ma. Jestem prawie pewien, że niewiele kopii gry się realnie sprzeda, bo to nie jest typ gry, w który ludzie grają namiętnie. A jak nawet grają, to mają setki clickerów za darmo.
Więcej?
Nie chce mi się. Można do praktycznie wielu rzeczy się przyczepić i zadać sobie pytanie - czy jest sens. Moim zdaniem można było zrobić porządny, ale mały "sklepik" z grami, który miałby sens jakiś. Nie wierzę, że taki Elixir będzie konkurował ze Steam, ale czy musi? Twórcy skupiają się na stworzeniu platformy do sprzedaży gier i różnych rzeczy tego typu na Bitcoinie. Mają swój cel i wizję, która wydaje się realna, ale tego samego nie mogę powiedzieć o Hashup. Wygląda to na zbiór wszystkich pomysłów na raz i próby uklecenia czegoś. Jeśli faktycznie Hashup ma powstać i jako tako sobie radzić na rynku - moja rada. Usiądźcie i przeanalizujcie na nowo cały projekt, wyjebcie i pozmieniajcie mnóstwo rzeczy, które nie mają sensu, wywalcie wszystkie wolnorynkowe i "chwali piętskie" wstawki.
Źródła:
[1] http://www.spore.com/patch/deauthorization